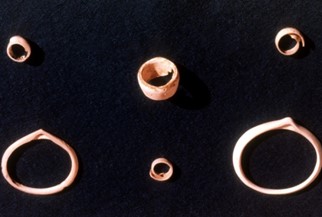 Barely 90 years after the Hohokam culture dispersed across the landscape, the first Europeans ventured into the Sonoran Desert, and named the area "New Spain." These Spaniards were looking for wealth that they could acquire from others. These conquerors used the unique landmarks shown to them by local American Indian guides, as well as the sun, moon, and stars to accurately map and document their discoveries.
Nearly 150 years after the first Spaniards confirmed the lack of large and wealthy civilizations,missionaries combed the area to collect the many valued souls of the people who lived here. With the spread of Christianity, local American Indian cultures changed to use the European methods of farming and ranching taught by the missionaries. Not long
after the area was purchased from Mexico by the United States in 1853, both ranching and mining dominated as the major industries for American Indians, Mexicans, and European settlers- lifestyles which lasted into the 20th Century,and overlapped with the creation of Organ Pipe Cactus National Monument in 1937.